Profitieren Sie von dem erstaunlichen Preis
von nur € 99,- netto (€ 117,81 inkl. MwSt.) pro Lizenz. Eine einzelne Lizenz erlaubt dem gleichen Benutzer das PlugIN auf zwei Computern zu installieren.

3D PDF aus RhinoCAD6.0 - kostenlose Testversion - Download
3D PDF aus Rhino ist ein mächtiges Rhino 6.0 PlugIN welches erlaubt, 3D Modelle aus Rhino6.0 mit einem Mausklick die 3D Szenen und Designs das populäre 3D PDF Format zu speichern und diese später im Acrobat Reader einlesen und darstellen zu können.
Bei Fragen erreichen Sie uns per E.Mail unter sales@RhinoCAD.de oder telefonisch unter 089/60013918

Videotutorial • Rhino 3D PDF Export
Videotutorial • Rhino 3D PDF Export - 22 MB
Neue Features in Version 3.0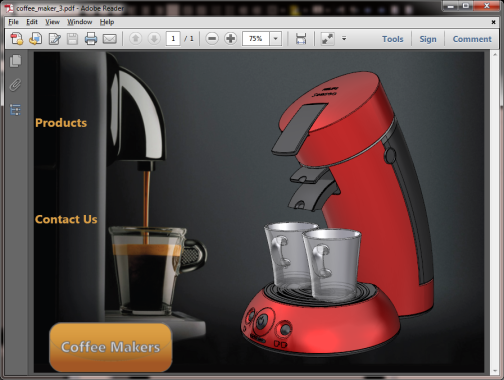 Supported versions
Rhino 4 (32 bit)
Rhino 5 (32 and 64 bit)
True 64 bit support
All components within the 64 bit version of the 3D PDF for Rhino plugin are 64 bit; which means it
can handle larger and more complex 3D models easily.
Floating Licenses
It is now easier for large teams to use 3D PDF from Rhino by utilizing the new floating licenses.
Template Designer
The newly added template designer enables users to create stunning templates easily to be used in 3D PDF export. Sample templates are included, and they can be customized in just few clicks to reflect the spirit of a product.
Embed 3D PDF files into HTML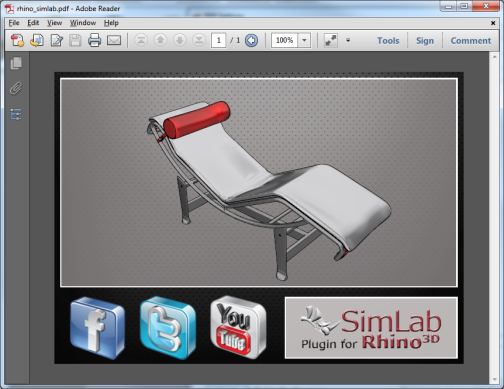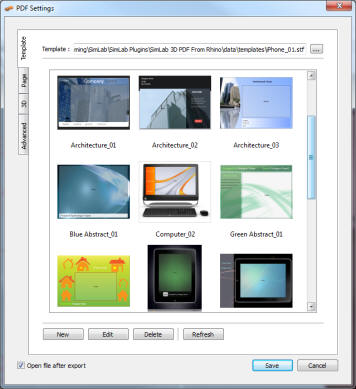 The new SimLab 3D PDF for Rhino plugin gives its users the ability to share their generated
3D PDF files on the web. Users can select any template to generate an HTML file that includes
the exported 3D PDF file.
Merge PDF files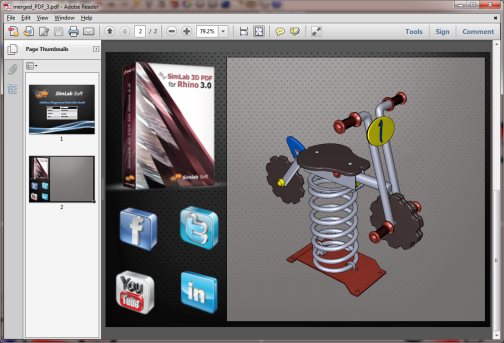 SimLab 3D PDF for Rhino includes a new tool for merging multiple PDF files. Users can use the merge feature to merge a company's front page –in PDF format– with a 3D PDF model.
Better control over the generated 3D PDF files' sizes
By utilizing Rhino's Render Mesh, users have control over the sizes of the generated 3D PDF files.
Better 3D PDF illustration mode
With the new illustration viewing mode, share your models in a new better look, showing details like never before.
Command Line
The new Command PDFExport added by the plugin, enables Rhino users to automate the process of generating 3D PDF files.
Open After Export
The 'Open file after export' option, makes it easier for users to view the generated 3D PDF files without searching for them.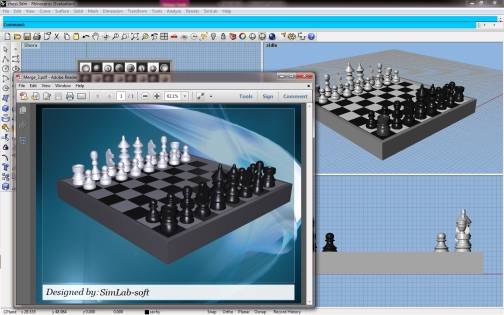 Neue Features in Version 2.5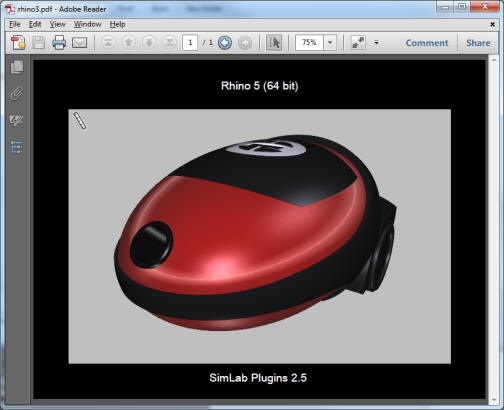 Better visual appearance
By exporting environment reflection, and bump maps from Rhino to the generated 3D PDF files, The models exported from the latest version provides a more realistic appearance.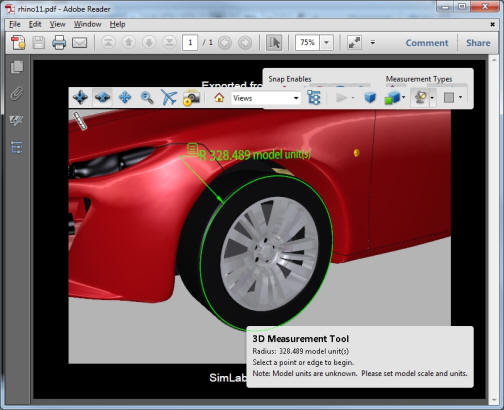 Enabling measurement in 3D PDF
The model designer is now capable of enabling measurement in the generated 3D PDF file. If measurement is enabled the file recipient will be able to do distance, radius, and angular measurements on the 3D model included in the 3D PDF file.
Better handling of Rhino blocks
The latest version includes a better handling of Rhino blocks. It is now capable of handling models including blocks faster with less memory.
Fine control over generated 3D PDF file
The user will be able to control fine aspects of the generated 3D PDF files including Show/Hide world axis, Enable/Disable selection of the 3D model.
Neue Features in Version 2.4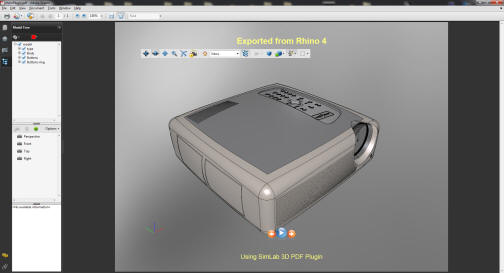 Erzeugen eines Baugruppembaumes in der 3D PDF Datei
Die neue Version erzeugt einen Baugruppembam im 3D-PDF, die mit der Layerstruktur in Rhino übereinstimmt, das beinhaltet eine korrekte Baugruppenstruktur mit den passenden Namen die in Rhino verwendet wurden. Diese Erweiterung ermöglicht es dem Empfänger das Modell besser zu verstehenen. Auch können verschiedenen Teile des Modells ein- und ausgeblendet werden.
Neuer Kameramanager Dialog
Der neue Dialog ermöglicht dem Ersteller der Datei, die Ansichten wählen die in der generierten 3D-PDF-Dateien aufgenommen werden sollen. Ausserdem können diese umbenannt werden und in der Reihenfolge innerhalb der Datei angebpasst werden.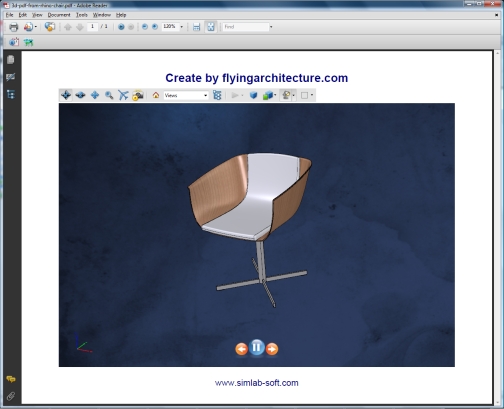 Control Automatic Camera Mode
Der 3D-PDF Creator hat nun eine bessere Kontrolle über den automatischen Kamera-Modus, welcher den 3D-PDF Präsentationsmodus öffnet, um dann die 3D-PDF Kamera automatisch zwischen den Ansichten innerhalb der Datei umschaltet. In Release 2.1 kann der Benutzer die Pausendauer, die Kameraeffektzeit und die Kameraeffekte die verwendet werden (Zoom, rollen, oder eine Kombination von beiden) einstellen. Wenn die 3D-PDF-Datei geöffnet wird, steht die Kamera während der gesetzen Pausenzeit still und startet danach den/die Effekt(e) für die setzte Kameraeffektzeit.
Danach wird in die nächste Ansicht gewechselt.
Neue Dokumentation
Die neue Dokumentation zeigt dem Benutzer wie er das PlugIN installiert und benutzt. So kann er das beste aus dem PlugIN herausholen.
Klicken Sie hier um die Dokumentation herunterzuladen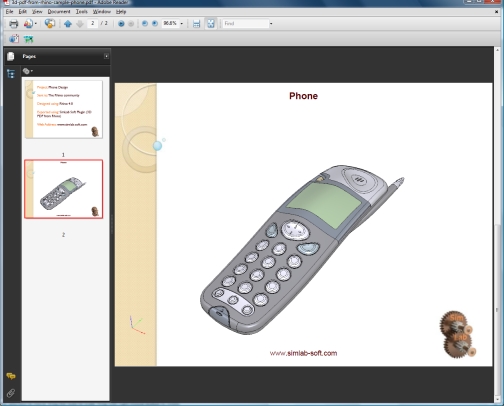 Unicode Support
Der Benutzer ist nun in der Lage jede Sprache für Kopf/Fuss Texte, Objekt und Kamera Namen zu nutzen. Das Benutzerinterface ist nun Englisch, Deutsch, Französich, Italienisch und Simplified Chinese verfügbar